Description
Technology Innovations
Customized laser cleaning control card which can control laser parameters and scanning system parameters simultaneously; Equipped with a remote wireless controller, through which can adjust laser parameters, update laser head configuration, set scanning parameter and check alarm information etc.
Unique laser cleaning head design, can be integrated with the manipulator to satisfy the automatic cleaning requirements; Integrated processing molding, dust-proof, suitable for industrial environment; Innovative red light auxiliary focusing design, which can easily find the focusing position under different field mirrors by red light indicator.
Features of Laser Cleaning Machine
Collimating output, collimating spot size can be customized The laser cleaning head is light and can be operated by hand for a long time Red light assists in focusing and can adjust the focusing position according to different field lens Wireless control, can realize remote parameter adjustment and light output control Compact design, easy to operate and move High strength injection box, stable structure, wear – resistant, shock – resistant, fall – resistant.
Advantages of Laser Cleaning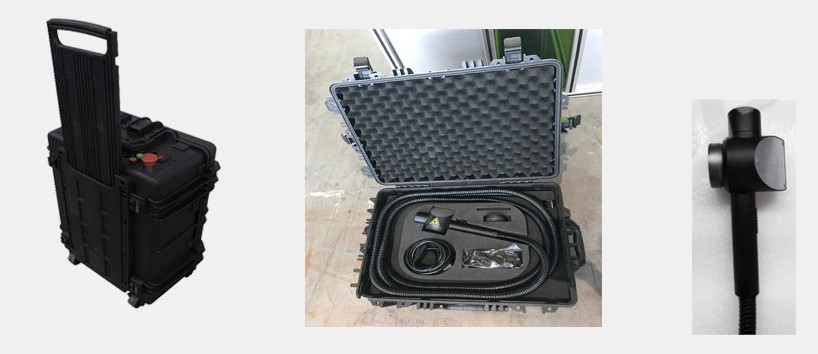 Environment Protecting: No chemical reagents, no waste water, dust and other residues Simple Operation: Portable integrated design, simple interface, easy to operate Material Protection: Non-contact cleaning, no damage to the substrate Wide Application: No limitation by product appearance, shape, etc High Precision: High positioning accuracy, thickness of removal of is controllable Cost Effective: Disposable investment, no consumables, maintenance free Intellectualized Design : Can be assembled with robot arm to achieve automatic cleaning.
Product Parameters
| | |
| --- | --- |
| Model | ALIGHT-CL100 |
| Central Wavelength | 1064nm |
| Scan System | Two-dimensional Galvanometer |
| Field lens focal length | F100, F160, F254, F330 Optional |
| Working Scope | 70mm×70mm(F100) Optional |
| Power Regulation | 0-100% |
| Frequency Regulation | 1-4000kHz |
| Pulse Width | 1-500ns (18 options) |
| Cable Length | 5m-10m |
| Cooling | Air Cooling |
| Dimensions | 615mm×470mm×290mm |
| Weight | 28kg |
| Application | metal rust removal, oil cleaning, paint cleaning, welding pretreatment |